Edwin Firth
Allan Littlemore pays tribute to one of the numerous bandsmen to give their lives for our freedom - the great Edwin Firth.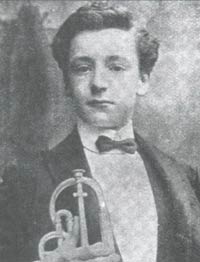 For as long as I can remember I have attended at the Cenotaph each Remembrance Sunday.  First it was when I was taken by my father to Middlewich as a boy, then at Elworth as a young man and, for the last forty years, at Sandbach. 
Gave their lives
At Elworth in the late 1940s, it was, and may still be, the custom to read out the names of those from the village who gave their lives for freedom from tyranny.  Included among those for the Great War of 1914-1918 are Harry Barker, Percy Barker, Harry Bowyer, A E Consterdine, J T Cooper, Richard Cragg, John Elsby and Private Edwin Firth.  In all there are incredibly twenty young men of the village who died in that dreadful War.  
And to think that Elworth 90 years ago was significantly less populated than now.  The villagers must have been devastated. 
Great tragedies
To us, all these years later, they are just names, but, of course, at the time they were great tragedies for their loved ones and indeed the whole tightly knit community.  As we approach another Remembrance Sunday I would like to record something of the life of one of those 'Glorious Dead', Private Edwin Firth.
Edwin was born at Skipton on 23rd December 1888 into a banding family.  His grandfather, Greenwood Firth, had been solo trombone with Black Dyke for twenty-five years, while his father Squire Firth had been a cornet player with the same band.
It was hardly surprising that Edwin learned to play the cornet as a lad and in 1899 joined the Skipton Band.  By 1902, at the age of thirteen he was Principal Cornet with the Band when they played at the famous Crystal Palace contest.  As something of a 'boy wonder', Edwin received many invitations to appear as a guest soloist, and was able to use the money to pay for private tuition from William Rimmer and Alexander Owen, the greatest teachers of their day.
Skills
He sharpened his skills in solo contests and won his first significant contest in adult company at Bradford in 1904.  Medals, Cups and Trophies came Edwin's way most weekends, while he was engaged for a week at Rochdale Circus & Hippodrome where he was billed as 'Master Edwin Firth - Champion Boy Cornetist, Prize Winner and Gold Medallist - A Musical Marvel'.
Solo success
In 1908 he attended two solo contests each of which was, in it's own way, to influence the remainder of Edwin's life.  The first was at the Shoulder of Mutton Inn at Mytholmroyd in an open contest which attracted twenty four entrants.  A report in the local Press said 'the playing was splendid and a revelation to the audience'.  The result was:
1st Prize: (25 shillings) Edwin Firth of Earby 2nd Prize: (10 shillings) Fred Mortimer of Hebden Bridge 3rd Prize: (5 shillings)  Arthur Webb of Houghton Main
No-one at that time could possibly have foreseen how that trio was to eventually serve Fodens Band for an aggregate of over eighty years.   
The second contest was at Hanley.  Edwin Foden (Senior), the Founder of the Foden Dynasty, was determined to have the finest brass band in the Country and set his two sons the task of recruiting the best players.   Under their father's instruction, Billy Foden and his brother Edwin (ERF) had been tracking Edwin Firth for some time with a view to offering him the Principal Cornet chair at their newly reconstituted band.  Being so near to their homes in Sandbach, they took the opportunity to go for a last time to listen to his playing.  Edwin played 'Fatherland' almost to perfection, took first prize plus a trophy and verbally accepted the Directors' offer of the Principal Cornet chair at Fodens Band.
Invitation 
Since Edwin was twenty years old, and therefore still a minor, the formal invitation was addressed to his father, Squire Firth.  Dated 23rd December 1908, it read as follows:
Dear Sir, We were over at the solo contest last Saturday at Hanley and were very pleased at the way your son went through his piece.
We have a first class band connected with the Works and are open to take on another Solo Cornet player.  It is our intention to attend all the principal contests during next season and have arranged with William Rimmer to come over every fortnight to a rehearsal (he lived in Southport) and go with us to the contests.  We have a large Engineering Works and have several branches of trade associated with it.
We do not know whether your son has any special trade but if we can come to terms with you, we would do our best to put a good trade in his fingers which would, we think, be helpful to him in the future.
We shall be glad if you can arrange to come over and bring your son to a practice.  We will then go fully into the matter with you.
William Foden Director'
Freelance
In the Spring of 1909 Edwin Firth joined Fodens Band but did not accept the invitation to join the Company.  Instead he continued his training as a watchmaker, as well as being a freelance musician.
Such was the Band's success in 1909 that the Directors decided to put things on a more formal footing, so the following agreement was drawn up.
'An Agreement made this 22nd day of October 1909 between Fodens Limited of the one part and Squire Firth and his son Edwin Firth of the other part.
It is hereby agreed that the aforementioned Edwin Firth shall be engaged by Fodens Limited as their Principal Solo Cornet player at a payment of ten shillings and six pence (just over 50p) plus expenses for every rehearsal attended, and fifteen shillings (75p) plus expenses for every contest and engagement.
It is understood that Edwin shall attend one rehearsal a week during the two years, and also attend every Contest and engagement at which his services shall be required by Fodens Limited.
This arrangement to extend from 31st December 1909 to 31st December 1911.
Signed Edwin Foden   (NB. This is the son of the Founder) Edwin Firth Squire Firth
Witness William Foden
Income
It is worth noting that Edwin's diaries show that he usually attended two rehearsals each week as well as playing privately for Edwin Foden, the Founder, who was in failing health and too ill to attend rehearsals. This meant that Edwin's typical income from Fodens was around £2 per week plus expenses, certainly much more than a tradesman was getting at Fodens for working a five and a half day week.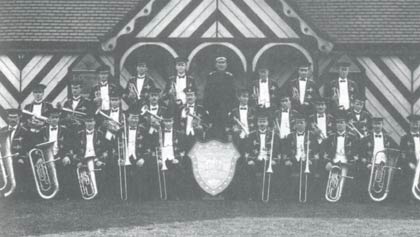 Fodens Band 1915  
Remarkable record
In the next nine years, Fodens, led by Edwin Firth, had a remarkable record at the Belle Vue contest, what we now call 'The British Open'.  They won five First Prizes, two Seconds, one Third and one Sixth.  In the four years that Edwin led the Band at the Crystal Palace Contest, now the National Championships held at the Royal Albert Hall, London, the Band won one First Prize, two Seconds and one Third.
Contract
When the first Agreement expired the Fodens Directors were determined not to let Edwin slip away to a rival band so they, in the person of Sam Twemlow, a Director and Company Secretary, offered him another contract.  It is in the form of a letter written to Edwin at his parent's home in Victoria Road, Earby and dated 5th January 1912.
Dear Edwin,
Regarding renewal of Agreement, we have talked the matter over but cannot arrive at any decision until we know more of what your ideas are.  Would you care to come and work here, say in the offices?  Or would you prefer to go on as you are, with us paying you more money?
If you would suggest something by letter to give us an idea of what your future intentions are, we could think the matter over and settle something with you at the next rehearsal.
If your father could care to come with you we shall be pleased to see him, and pay his expenses.
Sam Twemlow Director
Ironic
In the event Edwin decided that a combination of a job in Fodens Offices, plus some remuneration for playing in Fodens Band was what he wanted. It was ironic that some years later Edwin was to marry Doris, the daughter of this same Sam Twemlow.
At the Diamond Jubile Belle Vue 'British Open' Contest the following September, Edwin picked up a clutch of medals.  The Gold Medal awarded to every prize winning bandsman.  The Gold Medal with Diamond awarded to members of the winning band, the Higham Medal to the Principal Cornet of the winning band and similarly the Hawkes medal.
Press releases of the time relate to Edwin winning over 80 gold, silver or bronze medals.
Finest cornet player ever heard
Years ago I was fortunate to be able to speak with some of the players who had been in the Band alongside Edwin.  To a man they were sure that he was the finest cornet player they had ever heard.  In 1914 he made his first recordings with the Band.  In 2000, to celebrate the Band's Centenary, a CD was produced which includes a reproduction of Edwin playing Cleopatra so, a few scratches apart, people today can hear just how fine a player he was.
In 1913 the British Bandsman magazine ran a competition for the best composition of a March.  The winning entry was called Westward Ho!  The composer was Edwin Firth, who would be proud to think that it is still used today in concerts and march contests.
The Great War
The Great War was well into it's third year when Edwin decided, quite voluntarily, that he should fight for his King and Country.  So in 1917 he became Private Edwin Firth of the 28th London Regiment (The Artists' Rifles)
At first he was able to get home for some weekends.  One such occasion was at the end of 1917 when the Band had an engagement in Chester.  With his Commander's permission, Edwin took part and enthralled the audience with his playing.  Naturally an encore to his solo was called for, and knowing that his departure for the Front was imminent, decided that Tosti's Goodbye would be appropriate.  His fellow bandsmen sought to talk him out of this choice, seeing it as an ill omen, but Edwin was resolute.  It was to be the last formal concert and solo of his great career.
In February 1918 Edwin's Regiment was posted out to France, where he naturally took with him  a cornet.  Not his best one which had been a gift to his father from the Skipton Band, nor the little slide cornet his wife had bought for him to play novelty solos.  Instead he took an old unplated one from the bandroom cupboard.  It would be good enough to keep his lip in, and anyway the War would soon be over.
Killed in action
On 1st June 1918, just a few short months before the Armistice, Edwin's Regiment was at Varennes, north west of Amiens.  Edwin's Platoon had finished its spell of duty in the trenches and on this particular night it was his turn to act as guide to bring in the relieving party.  Edwin safely made their base but on the journey back to the trenches, just as they came out of a wood, a shell exploded killing Edwin and most of his comrades - he was only 29.
Eight weeks earlier a son, Edwin Twemlow Firth, was born to his wife Doris; a son he was destined never to see.  (For the record Doris died on 31st December 1991, just a month short of her 99th birthday; she never remarried.)
Tom Hynes, Bandmaster at Fodens wrote 'Our Bandsmen are grief stricken at the loss of dear Edwin Firth.  A better or kinder boy never lived.  He was beloved by all who came into contact with him and was a favourite everywhere.  His wonderful playing with our Band, and his modest and genial bearing, will never to be forgotten.  The loss to our Band, and the band world in general, is a great one.  He was a true artist and a gentleman.'
Buried
Edwin was buried in the Varennes Military Cemetery at Albert, near Amiens in the Somme region of France along with 1,218 other Allied soldiers.  Some years ago my wife and I went to seek out Edwin's grave.  Like all the other Military Cemeteries there is an index book to the graves in a brick pillar near to the entrance.  In it was printed 'Private Edwin Firth 766890, son of Squire and Clara Firth of Earby, Yorkshire, husband of Doris S Firth of Springfield, Sandbach, Cheshire.'
I hope the Commonwealth War Graves Commission will forgive me but in my best handwriting I added 'Principal Cornet, Fodens Motor Works Band, and the finest cornet player of his day'.
All of those whose name appears on the Cenotaph at Elworth deserve our eternal gratitude, but when the name of Edwin Firth is read out this year, those attending may know just a little bit about him.           © Allan Littlemore  October 2004
Copyright Allan Littlemore
(article first appeared in 4barsrest 2004)
http://www.4barsrest.com/articles/2004/art414.asp#.WqfA0WBLF9C