Teddy Gray
Allan Littlemore recalls the life and brass band times of Teddy Gray - the former principal cornet of the Foden's Band.
---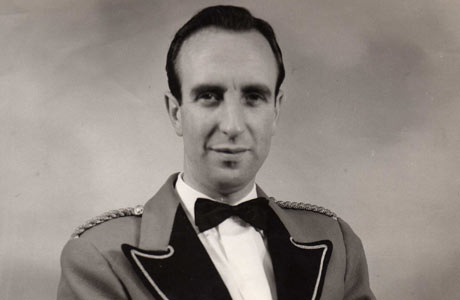 Teddy Gray: 1927 - 2009 I can recall times at Fodens, more than fifty years ago, when he was a senior tag clerk and I was an apprentice in the machine shop.  I would take my paperwork to his window and was always met with a friendly greeting.  There was no edge on Teddy.  In fact he loved nothing better to play practical jokes. 
Natural
But away from his private family world, and work, most of us knew Teddy for his talent as a cornet player.  To learn to play the cornet was natural, as Teddy was born into a family of 'Banders' at Aspull near Wigan.  
Teddy, and his older brother Harry, were both taught by their father Edward Gray (Senior).  In 1934 the young brothers appeared together on BBC Radio's 'Children's Hour' with Auntie Doris Gamble and played to many thousands of listeners.  They played the cornet duet 'Ida & Dot'.  Teddy was seven and Harry was eight; what an early age to make a national radio debut
British Open wins
The next year he joined Hindley Band and remained there for four years at which point he joined Wingates Temperance Band.  In that first year, when he was only twelve years old, he featured in their 1939 British Open Championships win.  The next year he joined Bickershaw Colliery Band, and again featured in the winning band at the British Open Championships.  
So, by the age of only thirteen, Teddy had twice been in the winning band in the toughest band contest in the world.  He must have thought it was easy.
Army life
In 1944 Teddy was called up into His Majesty's Forces and joined the Lancashire Fusiliers and the Royal Army Service Corps, so for the next four years was lost to Banding; but he certainly wasn't lost to Fred and Harry Mortimer.  After he was demobbed he took up banding seriously again and was soon snapped up by them and given the fourth solo cornet chair in Fodens Band.  
Bram Gay, who was in the end chair at Fodens Band, was a little younger than Teddy and soon he became conscripted.  It was at this point that Fred Mortimer appointed Teddy as the Principal Solo Cornet of what was then Fodens Motor Works Band; it was a position he was to hold for nearly 25 years.
Jousts
In 1950 the test piece for the National Championships at the Royal Albert Hall was 'Pageantry' by Herbert Howells.  A brilliant work and just as fresh today as it was when it was written 75 years ago.  The final movement is sub titled 'Jousts'; which says it all.
It starts off with a long solo cornet fanfare, without any accompaniment, and had to be played before a packed hall.  
All eyes and ears are on the Principal Cornet player.  It required the sweet cornet sound to be changed for that of a trumpet.  The adjudicators were stunned by Teddy's playing, one of them writing "Absolutely perfect initial solo cornet."   It doesn't get any better than that.  Is it any wonder that Fodens won the National Championships that year?
Mortimer Principal
Harry Mortimer, one of Teddy's predecessors as Principal Cornet at Fodens, was by now working in London for the BBC.  He decided to form and direct what he called 'Harry Mortimer's All-Star Brass Band'; literally the finest players from the top Bands throughout the Country.  Harry chose Teddy Gray as his Principal Solo Cornet.  
Later this ensemble became 'Harry Mortimer's Men o' Brass' and again Teddy was top man.  So in all Teddy held three of the most prestigious playing roles in banding. 
All of the 'Men o' Brass' recordings were conducted by Harry Mortimer, with one exception; that was conducted by Sir Malcolm Sargent in 1965.  The recording was of some of Sargent's arrangements for brass band, one of which was the Chopin prelude for piano, known as 'Raindrop'.  So beautifully did Teddy play and articulate the notes that the great conductor turned to him and said "You would have made a wonderful pianist".
Artistic brilliance
Jimmie Charles, who played with him in all these Ensembles, said that Teddy had a technical and artistic brilliance unsurpassed by any other player of his day.  Ted Swindells, who was a member of Fodens Band for over forty years, and throughout Teddy's period of tenure, said "I never ever heard Teddy make a serious mistake, whether in rehearsal, concert or contest."
Easy way out? However two stories illustrate that Teddy was not averse to taking the easy way out, if the opportunity arose.  The Band was rehearsing for a concert in Tunbridge Wells and Teddy was listed to play the cornet solo 'Shylock'.  
The physical demands of leading the Band and also playing solos could be hard work, so Teddy ventured, in the rehearsal, to suggest to Fred Mortimer that it might be appropriate for him to make a cut (leave a bit out).  Fred reprovingly responded "If you can find a good place to make a cut between the Introduction and the Coda, then we'll make it" - Teddy played the solo in full.
Quiet day
In another instance Jimmie Charles tells of a Massed Band Concert in Huddersfield Town Hall.  Teddy's fault, if it was a fault, was to never seek the limelight; in fact to avoid it if possible.  Not for Teddy the solo album recordings like some of today's lesser players.   
The Massed Bands took up their chairs for an afternoon rehearsal, quickly followed by the conductor, 'Wee Professor' Walter Hargreaves.  He smiled, looked down at the Principal Cornet seat and enquired "Where's Teddy?"  There is always some jostling for positions in Massed Band concerts, but not for Teddy who had quietly settled himself in the fifth solo cornet chair; he was positioned for a quiet day.  
When it was pointed out just where Teddy was, Walter pointed to him; pointed to the end chair, but never said a word.  The prospect of a quiet day for Teddy had ended.
Conductor
In the early 1970s Teddy's playing days were coming to an end.  Occasionally, as Bandmaster, he conducted Fodens Band if Rex Mortimer was absent, but he felt that he could better by making his mark elsewhere.  
He took Greenway Moor Band from the Second Section to the Championship Section, and then took over the baton at what was then the North Staffordshire Concert Band.
Soon Teddy was able to secure sponsorship from the Royal Doulton Company and the band took that as its name.  Teddy was to be the Music Director there for twenty years, taking it from the lower reaches of Banding's ranks up to Championship status.
Show us your medals
When today's top footballers are bragging about their achievements, they are usually challenged by "Show us your medals".  Seldom do Brass Band Contests award individual medals.  Had they done, Teddy's home would have needed a very large mantelpiece.  
Three times he was a member of the winning band at the British Open Brass Band Championships, once as Principal Cornet of Fodens.
Three times he led Fodens Band to victory in the National Brass Band Championships.
Four times he led Fodens Band to victory in the North West Regional Contest.
He was Principal Cornet of Fodens when they won the Festival of Britain Championships in 1951 and when they won the International Championships in Holland in 1954.
Three times he featured in the winning Fodens Quartet at the National Championships.
Teddy made thirty recordings with Fodens and over fifty recordings with Harry Mortimer's Men o' Brass.
I have no record of his contest successes with Greenway or Royal Doulton, but they were numerous, as were his recordings with the latter.
This is your Life
I know of no statistics to say just how many radio broadcasts he made, but I do know that he appeared on BBC Television in 'This is Your Life' with Fodens, when Eamonn Andrews guest was bandleader Ted Heath. 
So, metaphorically speaking, if Teddy were to show off his medals, he would certainly need a very big mantelpiece.  Perhaps pride of place among all his collection would go to the top honour that can be awarded to any Bandsman; Teddy was awarded the Insignia of Honour at the Royal Albert Hall in 1974.
Sadly, in latter years, Teddy did not have the best of health.  Even so I was pleased that I remembered to call him for his birthday just a few days before he passed away, even if he was too unwell to talk with me.
I have a feeling that 'up above' there is some shuffling of the top chairs on the solo cornet bench, so as to make way for one of the finest players of all time.
Allan Littlemore  Copyright: January 2009
(article first appeared in 4bars rest) 
 http://www.4barsrest.com/articles/2009/art953.asp#.WnnICGBLF9A